The American company Zero Gravity Filters specializes in the production of filtration equipment designed for the separation of large volumes of impurities. Patented filtration technologies have been in operation worldwide for more than 20 years.
Fully automatic filtration units with self-cleaning system, no need to change filter cartridges.
Very low maintenance – minimum moving particles and very low energy consumption, lower than an LED bulb.
Three technology options: magnetic filter (Maggie), slotted filter (Phoenix) and centrifuge technology (Tornado).
Particularly suitable for cutting applications, grinding, honing, industrial scrubbers and paint shops.
Minimum liquid yield.
Filtration is suitable for continuous removal of impurities from water, machining fluids and low viscosity oils.
We offer the possibility to rent the Maggie magnetic separator and the Tornado centrifugal separator!
Maggie
Magnetic, automatic, self-cleaning separator in stainless steel.
High efficiency separation of solid particles up to 1 µm.
Minimum liquid yield thanks to Smart Drum technology.
Suitable for paint shops, grinding, coolants in mills, electroplating lines and industrial washing machines.
Phoenix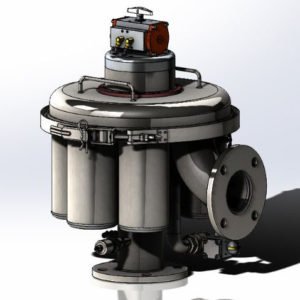 Slotted, fully automatic, maintenance-free filter in stainless steel.
Removes all types of impurities up to 20 µm in size.
Simple and elegant design combined with high reliability.
Suitable for power plants, automotive, steel, food and paper industries.
Tornado
Centrifuge technology based on centrifugal force.
It removes large quantities of impurities very efficiently, making it ideal as the first stage of the filtration process.
The automatic, self-cleaning system makes the separator maintenance-free.
Suitable for power plants, heat transfer oils, quenching oils, machining and cutting fluids.