The oil mist separators from Swedish manufacturer 3nine are the most environmentally friendly and efficient solution on the market, requiring minimal maintenance and offering the possibility to reuse coolants.
The centrifugation technology separates 100% of particles larger than 1 µm, which are returned to the system in liquid form. The HEPA filter receives a minimum of particles smaller than 1 µm, thus guaranteeing its longevity. This technology guarantees 99.97% cleaning efficiency – clean air and work area, no slippery surfaces.
The separators have a patented self-cleaning system, which is reflected in low maintenance and operating costs. The separators can be placed directly on the machine, so they do not take up space on the work area. Their installation is simple, requiring minimal installation material.
The product ranges BLUE LINE and GREEN LINE offer applications for a wide variety of machining operations and materials including grinding and machining of cast iron.
We offer a loaner option with continuous air quality measurement!
Blue Line
The classic, original 3nine range of oil mist separators.
Suitable for cabin size up to 20 m³.
There have been more than 7 000 separators installed across 4 continents.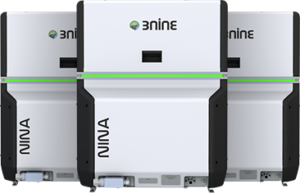 Green Line
The new 3nine range of oil mist separators.
Also suitable for demanding applications such as grinding or machining cast iron.
Modern design combined with high efficiency and low maintenance and operating costs.